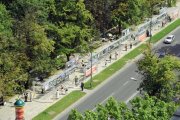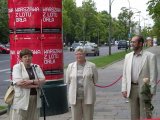 The opening of the exhibition
Warsaw as it was never seen before.
In the real city, on the walkways along Ujazdowskie Avenue, a mini-Warsaw has appeared, with conventional avenues and squares. The exhibition - on close to a hundred large format photographs devoted to the capital by scientist and artist Marek Ostrowski - is sponsored by the City of Warsaw and forms a part of his Polish Avenues Project.
The exhibition `Warsaw as the Eagle Flies' presents space from a perspective which is unattainable to most of the city's inhabitants, but which is unusually interesting and inspiring. As Ostrowski claims, not only do aerial photos provide a new viewpoint, but, in addition, the higher they were taken, the wider the horizon they give to our knowledge about space. The photos are documentary in nature and often artistic as well. Combining elements of science and aesthetics they create an unusual image of a modern city. [more]
Take a virtual walk through the exhibition:
Invitation to the Na Rozdrozu Café
Wishing to honour the initiator and author of this exhibition as well as all visitors, the Na Rozdrozu Café - a traditional meeting place for Varsovians - invites all visitors to view more of Marek Ostrowski's pohotographs. [more]